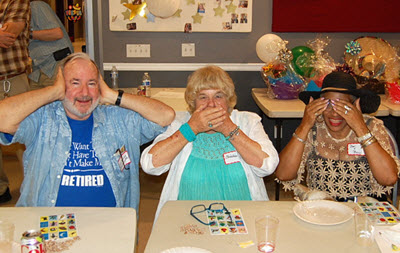 It's all fun and games at ccsc
The Cathedral City Senior Center offers a variety of free and low cost programs for our members every week. The center emphasizes mental and physical health and wellness through exercise classes, card games, support groups, creative arts, and more. We also offer one-on-one appointments with a variety of social service agencies including Senior Advocates and a free women's hair salon. In 2019 more than 300 members and their families made over 25,000 participant visits to these program and activities!
We are continuously adding new programs as we return to onsite programming, so make sure to check back often and pick up the latest program schedule at the front desk. 
Senior Art Exhibit at J.J. Harrington Art Gallery
Cathedral City Senior Center artists were recognized by State Senator Kelly Seyarto (District 32) on April 26, 2023.
J.J. Harrington Gallery featured the work of 24 artists from our senior center from April 14 – April 26, 2023. Because of the huge success of this event, J.J. Harrington Gallery has committed to featuring senior artists every year. Thank you to J.J. Harrington Gallery and our artists.